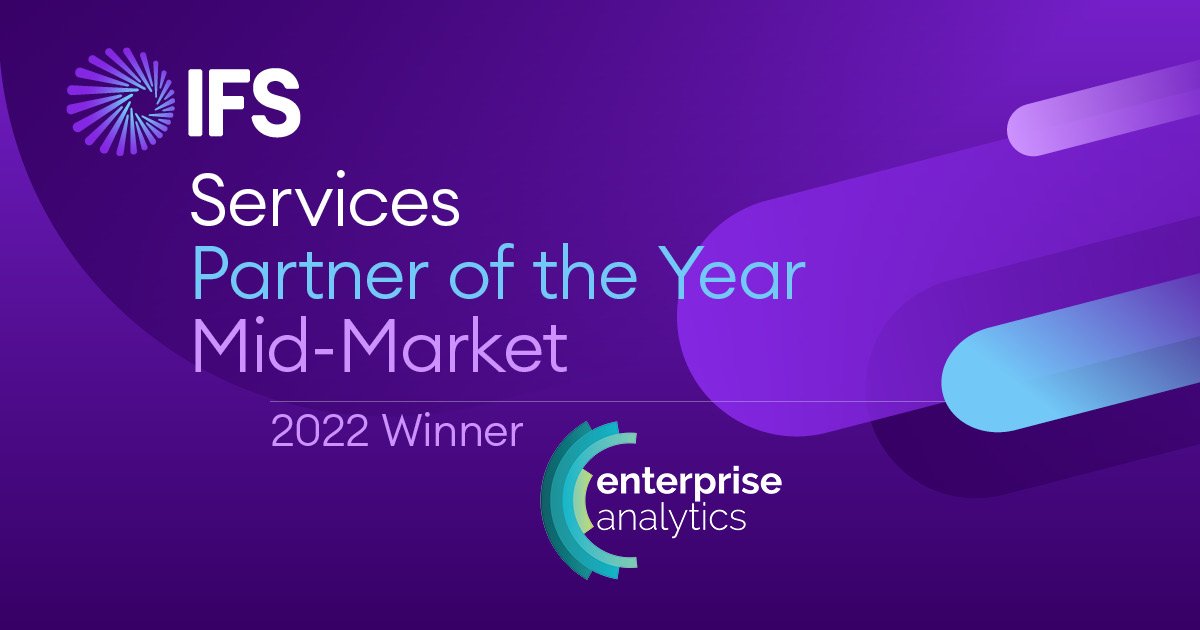 Enterprise Analytics (EA), a leading ERP solutions provider with offices across the globe, was recently awarded IFS Services Partner of the Year 2022 (Mid-Market) at the IFS Partner of the Year Awards. The event, which was held in conjunction with IFS' partner network summit called Unleashed, was held in Miami, Florida.
The IFS Services Partner of the Year is nominated based on a partner's expertise in implementation methodology their breadth of knowledge of IFS solutions and instrumentally superior customer service mentality in delivering a multitude of successful projects in record time driving exponential ROI for customers.
Enterprise Analytics Director Eranda Maldeniya said: "We are absolutely elated to have won this award. It is a testament to our strong commitment to our customers and the dedication of our team, without whom this would not be possible. I am proud of each one of them and grateful for their hard work that allowed us to quickly adapt to an ever-evolving business landscape."
"We have been on a strong growth trajectory the last few years and we see this award as a validation of our strategic efforts to open up new markets and deliver on opportunities as we more closely align ourselves with IFS' own business initiatives," he added.
This award comes on the heels of Enterprise Analytics making the first new customer acquisition to IFS Cloud in South Asia. EA was recently chosen by global sports manufacturer Aqua Dynamics to implement, support and roll out IFS Cloud across its entire operation.
The company was chosen for its track record of excellence and experience in IFS Cloud upgrades having completed 5 similar projects for businesses across the globe.
"I am proud of the achievements Enterprise Analytics have made in such a short time," said IFS Global Head, Partner and Channels Merlin Knott. "They have shown a real commitment to expanding their role within our partner ecosystem and a dedication towards delivering exceptional moments of service to their customers. It is evident that their values and strategic approach are in line with our own and that their depth of knowledge has allowed them to meet their customers' business requirements. As with all our partners, Enterprise Analytics is an invaluable contributor to our continued success and we look forward to more great things from them in the future."
The IFS Partner of the Year Awards is a global initiative designed to commend partners for their continued commitment to excellence within the global IFS partner ecosystem. The awards celebrate outstanding partner achievements across nine categories and provide a platform to recognise partners' dedication to the IFS Partner Program, commitment to excellence in the service(s) delivered to mutual customers, and expertise in leveraging innovation to extend the capabilities of IFS's solution.
Founded by a group of ex-IFS Consultants in 2018, Enterprise Analytics is an ERP and Software Services Company headquartered in Colombo, Sri Lanka. The company's team of IFS certified consultants have the deep domain knowledge needed to accommodate the unique business needs of their customers across a myriad of industries and geographies. Expanding rapidly over the years, EA currently operates in Asia, the Middle East, Australia, the UK, Europe and America.
Paper Publishments: